Meet our board of directors
Clint Barkdoll, Board President
Clint Barkdoll is a Waynesboro native with a diverse background of legal experiences. His practice includes criminal defense, divorce, child custody, domestic relations support matters, corporations, wills and estates, real estate, and a variety of other civil areas. Clint has been a member of the Pennsylvania Bar Association since 1998.

Over the years, he has successfully argued appeals before the Pennsylvania Supreme Court, Pennsylvania Superior Court, and the Pennsylvania Commonwealth Court.

He has appeared in common pleas courts in counties throughout south central Pennsylvania. He has also represented clients in various special courts, including unemployment compensation appeals, election boards, tax appeal boards, FINRA, professional licensing boards, and investigating grand juries.
Sally Sussman,
Vice President
Sally Sussman has been a member of the Nicodemus Center for 12 years, and previously served four years as Board President, rejoining the board for her third term in 2019.
Sally also spearheaded the development of the Ceramic Arts Center of Waynesboro in 2013 as part of the Destination ARTS! initiative by finding the South Church Street location, purchasing the building expressly for this purpose, supervising the renovations, and subsidizing the rent to make it affordable for the organization.
Sally owns Sussman Enterprises and is a partner in RentinWaynesboro.com. She is a real estate agent with Long and Foster in both Pennsylvania and Maryland.
Sally has served on the board of the Waynesboro Daycare Center, chaired various events for Renfrew Institute, and has been involved in the Arts Alliance of Greater Waynesboro's Destination ARTS! initiative since its inception, most recently founding the Community Book Club which meets monthly at Gallery 50/Music Makers.
Sally and her husband Andrew have three children, Nigel, Adrienne, and Nicola.
Sarah Stansfield,
Treasurer
Sarah Stansfield has been in the banking industry since 1994, and has held various positions. Since 2000 she has managed the Mont Alto Office of F&M Trust.
Her professional responsibilities include outside business development, sales, operational management of the office, coaching, new account opening, lending, and employee development. She is responsible for the office's budget, and in attaining lofty goals set for my office by the organization.
Sarah acts as the backup Mortgage Originator for the Southern Franklin County area.
Her community involvement Waynesboro Chamber of Commerce, serving as St. Andrew School HSO president for over two years, acting as the treasurer for her husband's military unit's Family Readiness Group, where she managed finances, budgets, and financial statements for two years, including when the unit was deployed.
Stansfield graduated from Leadership Franklin County in 2018, an organization designed to develop a continuum of civic leaders who are engaged in the advancement of the community's quality and growth.
She is married with 3 children, two which attend St. Andrew, and one who is attending college.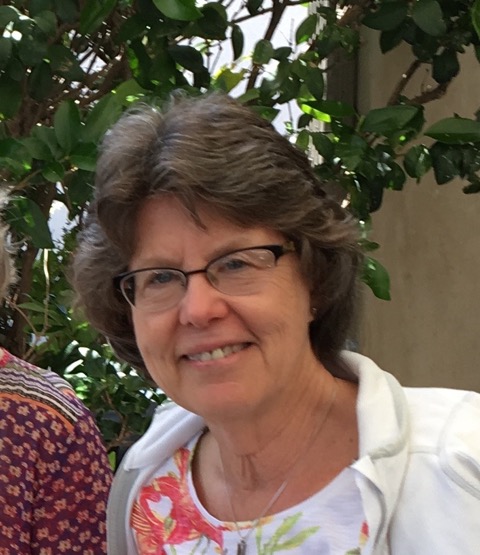 Debbie Pflager, Secretary
Debbie Pflager moved to Waynesboro in 1985 with her husband, Bill, and 2 children, Sara and Jay. Two more children, Julie and Daniel soon followed and Debbie worked as a stay-at-home mom while volunteering with Cub Scouts, Band Auxiliary, PTA, Sunday School, Friends of the Library, and Renfrew Institute.
Once the youngest was in school, Debbie worked at Renfrew Institute as an instructor. In 1997 she accepted a position with the Waynesboro Area School District and worked for almost 20 years as teaching assistant, technology facilitator, and finally as Supervisor of Data Management.
She retired in December 2017 and is enjoying spending time with her grandchildren, traveling, hiking, and rediscovering hobbies.
While Debbie has no background in art or pottery, she has a love and respect for the Nicodemus Center and its mission. She supports the opportunities the center has given to folks in the community to dabble in the arts and she loves to bring her out of town visitors to the Pottery Store.
Mira Mattern has dabbled in ceramics for more than thirty years. She loves the ancient sensory connection of hands on clay and the rhythm of production. She is intrigued by the technical aspects of glazing and firing, understanding they determine the magic of a finished piece. Mira appreciates the Nicodemus Center's mission which ties our modern, productive studio to the rich past of local potters living and working in Waynesboro and the surrounding area in the 19th century.
Mira has taught multilevel ceramics courses at Wilson College with a focus in ceramics creation and ceramics arts history. She has also taught non-credit ceramics and summer children's ceramics. She completed her MS in Communications Studies at Shippensburg University, where she currently works as the university's web designer. In her free time she enjoys hiking, gardening, cooking and spending time with family and friends.

Carolyn's clay and glass journey began in the 1980s. In Washington, DC, she studied wheel throwing at Glen Echo with Jeff Kirk. Her pottery passion traveled to Austin, TX where she continued studying pottery and added glass to the repertoire. Today, Carolyn produces hand built and wheel thrown vessels as well as glass art at the Ceramic Arts Center and the Corning Museum of Glass.
Carolyn has participated in the juried Franklin County Art Alliance Miniatures show, the "Her Secret Garden" Art exhibition in conjunction with Chambersburg's IceFest Celebration and the Nancy Horton Heefner Memorial Art Show at Mercersburg Academy.
Carolyn is an active member of the Ceramic Art Center guild with a focus on kiln firing and glaze creation. She serves on the Nicodemus Center for Ceramic Studies Board of Directors and is a member of the Franklin County Art Alliance. Carolyn's work is displayed at the Ceramic Arts Center www.ceramics-nccs.org located in downtown Waynesboro, PA. You can also follow her work on Pinterest at 2Cs Creations.
Eileen has led a very versatile career over the span of 38 years. Originally from Buck County, Pa; she has resided in Greencastle, Pa for the past 30 years. Professionally, a registered nurse with a Masters in Business Administration. This has led her to experience variety of paths throughout her career. Including: Pediatric and School Health Nurse, Clinical Informatics Analyst and Coordinator, Health Care Administration, Instructor and Business Owner. Cochran, along with her lifetime partner, has five children and four grandchildren.
Currently serves on the Board of Directors for NCCS and is an active member of the guild. Business owner of Pottery Junction and continuing to enjoy new adventures !